Know about Safi
Safi is an ayurvedic tonic comprised of Neem, Tulsi, Chirata, Chobchini, Keekar, Brahmi, etc. Safi acts as a natural blood purifier. Safi, the herbal healthcare product, helps clean blood impurities, thus suitable for skin glowing by removing skin issues. Safi is known to remove toxins from the body, therefore helpful in minimising the impact of acne, pimples, and blemishes. As per Hamdard, it is suitable for the digestive system, ensures the treatment of constipation, and cures boils, spots, and skin eruptions. It isn't enjoyable in taste.
8 benefits of Safi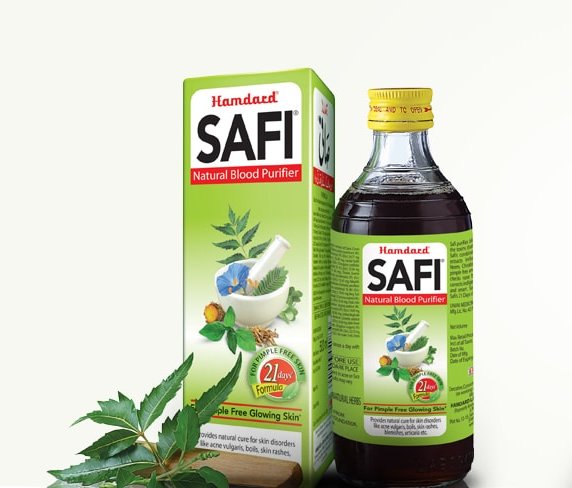 Photo credit: Hamdard
Skin glowing: Safi helps remove toxins and harmful substances from the body, thus suitable for skin glowing, skincare, and preventing pimples, acne, and skin rashes.
Blood purifier: It acts as a natural blood purifier by removing impurities from the blood and the body, thus providing radiant skin.
Digestion: It is beneficial for digestion and curing constipation.
Nose bleeding: It helps to cure nose bleeding.
Liver: As per Hamdard, it is good for the liver.
Thyroid: Using Safi is also beneficial in the case of the thyroid.
Skin diseases: The presence of Neem in Safi helps to protect from many skin diseases.
Stomach clear: The presence of Senna ensures that the stomach is.
Safi uses
It is used to remove impurities from the blood.
Blood cleansing
Prevents pimples and acne
Skin glowing
Constipation
Liver
Thyroid
Digestion
Skin diseases
Acne
Eczema
Reduced appetite
Infection
Gout
Cough
Sore throat headache
Hamdard Safi as a blood purifier
Safi is a Hamdard product used as a blood purifier. The Unani aqueous extract cleanses blood impurities by removing toxins from the body, thus helpful in treating acne, pimples, and blemishes. It is also suitable for smooth digestion, thus preventing skin eruptions.
Safi side effects
The Medicines and Healthcare Products Regulatory Agency of the United Kingdom Department of Health said in 2005 that Safi contained a high level of arsenic.
The Health Department of Canada also warned that Safi is having arsenic 40 times more than the allowable concentration of drugs.
Metal arsenic may cause abdominal pain, diarrhoea, cancer, muscle cramps, hair loss, blood in urine, and skin pigmentation.
Muscle fatigue
Vomit
Drowsiness
Burning of skin
Online price
Hamdard Safi Blood Purifier Syrup-200 ml (pack of 2): Rs. 155
Hamdard Safi Blood Purifier Syrup-500 ml: Rs. 170
Hamdard Safi Syrup for pimple-free skin 200 ml: Rs. 95
Hamdard Safi Blood Purifier Syrup-200 ml: Rs. 95
Safi Natural blood purifier-100 ml: Rs. 55
Ingredients
The various ingredients of Safi contain a mix of Unani and Ayurvedic herbal medicines. Its 5 ml contains the ingredients as given below:
Sana
Sheesham
Sandal
Harar
Chiraita
Nilkanthi
Chobchini
Keekar
Brahmi
Kasni
Unnab
Revand Chini
Qand Safaid
Shora Desi
Is Safi safe?
Safi is a Unani herbal product with the most minor side impacts. Since it's a mixture of so many herbal ingredients, its positive aspects for health purposes can't be denied.
Safi shouldn't be taken in the following conditions.
Hypersensitivity
Pregnancy
Organ transplant
Infertility problems
Breastfeeding
Surgery
Dosage
For adults, 10 ml may be given, while for children, 5 ml is ok.
It may be taken twice a day.
It is better to take it after a meal.
Where to buy Safi
Amazon
Snapdeal
Indiamart
Apollo Pharmacy
Medplusmart
Flipkart