Roohafza: an excellent summer quencher
If you want to be fresh and energetic, go for Hamdard Roohafza. Hamdard's roohafza is a naturally refreshing summer drink and India's one of the leading summer quenchers. Roof Afza is a herbal concentrated squash cum refreshing sharbat syrup famous worldwide for its flavour in cold deserts, lemonade, and milk recipes, and also used in the making of numerous delicious recipes and dishes. Due to its unique flavour and wonder benefits, it is used with milkshakes, lassi, falooda, kulfi, phirni, pudding, and kheer. The syrup is famous among the masses because of its unique taste, excellent formula, fragrance, and unravelled qualities. It is widely used in the holy month of Ramadan. The word romanza also has a special meaning. Rooh means soul, and d afza means nourishing the soul.
Also read: Sabja seeds benefits in summer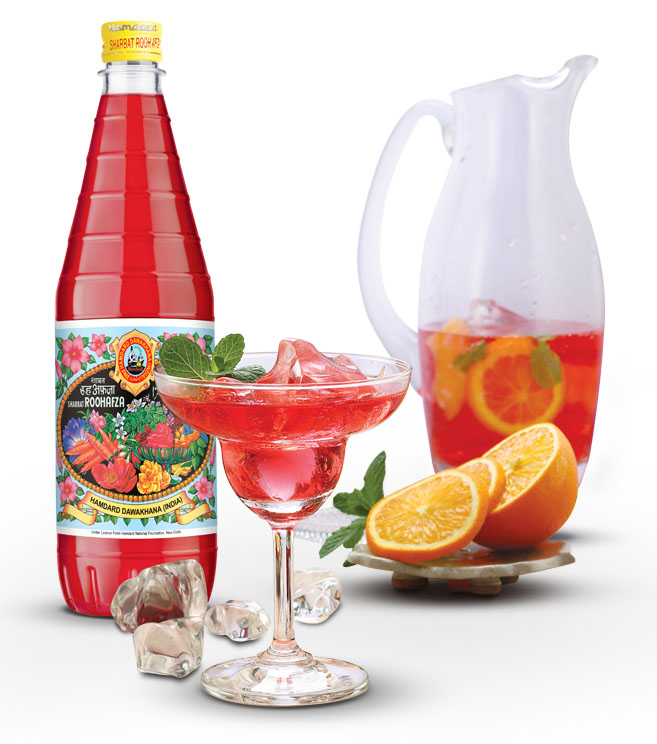 Roohafza sharbat syrup price
The price of  750 ml of roohafza is Rs. 150. Its order can be given on Amazon, Flipkart, Indiamart,  Bigbasket, snapdeal, and Hamdard, in, etc.
The pack size: 750 ml
Pack type: Plastic
Brand: Hamdard
Roofafza syrup ingredients: What Roohafza made?
All the ingredients of roohafza are natural and derived from fruits, herbs, vegetables, flowers, and roots.  The essential elements are:
Fruits: Pineapple, apple, berries, orange, watermelon, citron, strawberry, raspberry, loganberry, cherry, concord grapes, and blackcurrant.
Herbs: European white lily, Blue star water lily, lotus,  purslane, coriander, chicory, and borage
Vegetables: Carrot, spinach, mint, and Luffa aegyptiaca
Flowers: Rose, lemon, orange, and Pandanus fascicularis
Roots: Vetiver.
Roohafza Recipes
Rooh Afza & Sabja Seeds: The drink is quite popular in summer. For the recipe, take chilled water (4 cups), soaked sabja seeds ( ½ tbsp.), and Roohafza and sugar as required. Lemon can also be added as per your necessity. Mix it properly. The recipe is ready to use. 
Rooh Afza Lemon Sharbat: Take chilled water (4 cups), Soaked sabja seeds (5 tbsp), lemon juice (3 tbsp), sugar (1 tbsp), and an ice cube. Now mix it suitably before use.
Use of Roohafza
It is used in multi-purposes
Its use with fresh milk and yogurt is delicious.
Home-made ice cream
Sorbet
Slush
Smoothies
Sundaes
Other sweet and savoury dishes
How to use in Ramadan
Because of its natural freshness and aromatic properties, roohafza is used by more or less all the people who do fasting during the holy month of Ramadan. Its use is quite simple.  For 2 servings, take about 1 lite of water and drop about 5-10 tbs of roohafza or as required. Now, mix it correctly with the necessary amount of sugar and lemon. Keep it in the freeze for 10-15 minutes. Now, it is ready to use and gives you a refreshing aura after consuming it.   
Product details 
Roohafza is based upon Tibb-i-Unani formulation, which contains refined sugar, Aqua fruits, aqua keora, aqua rose, aqua flowers, Color FD&C. (Red 40), and preservatives.
Saveur magazine of USA listed it among the top ten brands of the world in its list of 100 in 2007.
Amazing benefits of Roohafza
Weight gain: If you want to increase your weight, try roohafza. It helps to increase weight by promoting nitrogen balance in the body. For weight gain, one can use it along with milk or yogurt.
Increases vigour and vitality: If you want to increase your stamina, power, energy, and vitality, especially in the summer, the best vet to opt for is Roohafza.
Control dehydration: Being a natural and refreshing drink, it is also effective in maintaining water balance in the body because of the presence of minerals like sodium, potassium, calcium, magnesium, phosphorous, and sulfur. All these roohafza minerals are helpful against dehydration, heat exhaustion, and excessive sweating.
Fever control: Many people experience fever during the scorching summer. This also proved that cooling has a more significant impact on controlling fever. There, roohafza effectively minimises the severity of madness to a certain extent.
Control vomiting: The feeling of nausea and vomiting can also be reduced by using roohafza.
Cardiac health: It is also said that romanza is good for cardiovascular health. But, there is no such evidence is found in this regard.
Indigestion: It is also beneficial in case of indigestion and stomach ache.
Owner
The refreshing drink was discovered by Hakim Abdul Majeed, a renowned Unani physician and founder of Hamdard.  Hakim Abdul Ji started this natural fresh drink from Old Delhi in 1906. Now, it is being prepared from three Hamdard (Waqf) laboratories-India, Pakistan, and Bangladesh. From a simple establishment, Lal Kuan, Old Delhi, Rooh Afza has successfully made a niche as one of the leading refreshing syrups in the world. Now, it is a leading brand in the world. In 2007, it was the top 10 drink in the world in a survey by a USA magazine.