Masturin overview
Hamdard Masturin is a wonder of nature and amazingly quite effective for women's reproductive health issues like menstrual, leucorrhoea, gynecological problems, cramps, etc. The natural product works on the restorative front of health and does wonderful jobs for uterine disorders.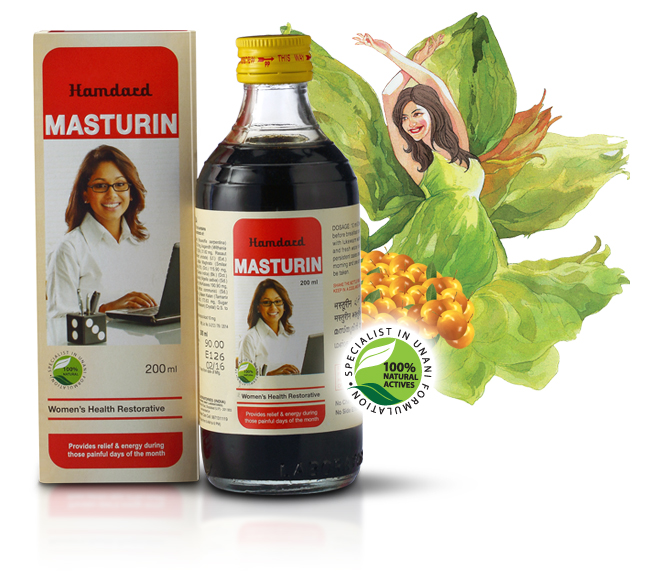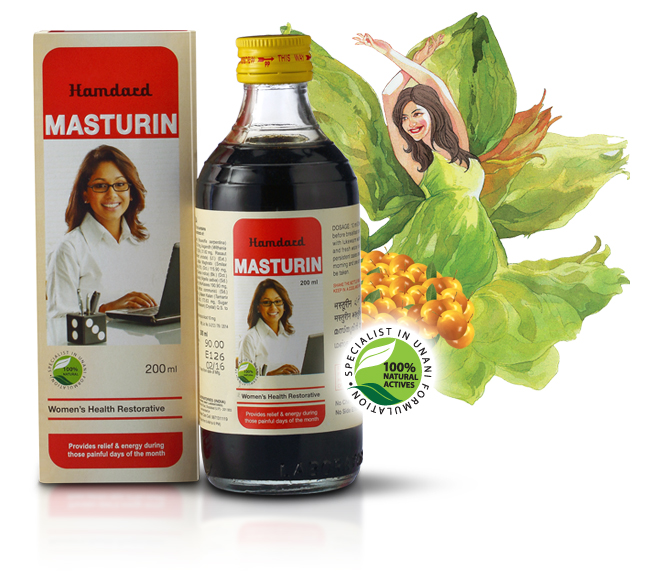 Courtesy: Hamdard
Masturin ingredients
Masturin is constituted of the following natural components:
Withania somnifera
Abroma augusta
Berberris aristata
Iron
Masturin dosage for female reproductive disorders
Nature's wonderful restorative masturin is good for many gynecological problems. It is helpful in the treatment of many reproductive related diseases. Here, the diseases along with dosages are given after consulting from a Unani physician.
Menstrual problems: For menstrual irregularity, one should take 2 tbsp of masturin at night until the start of the next menstrual cycle.
Dysmenorrhoea: For dysmenorrhoea, take 2 tbsp of the natural wonder at night.
Leucorrhoea: For leucorrhoea, the same thing should be repeated.
Metritis: As per the physician, one should take 2 tbsp of masturin along with lukewarm water at night. However, in severe cases, one may take one dose in the morning.
Uterine inflammation: It is helpful in uterine problems.
Uterine disorders
Masturin chemical composition
Masturin is the amalgam of medicinal herbs. The 10 ml of masturin contains the following Ayurvedic as well as Unani formulations.
Saraca indica: 500mg
Withania somnifera: 250mg
Abroma augusta: 125mg
Smilax officinalis: 125mg
Ferrous sulphate: 100mg
Rauwolfia serpentia: 100 mg
Valeriana wallichii: 23.6mg
Sugar & excipients
Masturin health benefits
It treats and cures menstrual problems, Dysmenorrhoea, Leucorrhoea, Metritis, Uterine inflammation, and uterine disorders.
It is one of the finest natural herbs formulations to relieve you from all the discomforts during the menstruation period.
This natural wonder helps to tone up the muscles
It naturally regulates the menstrual cycle and menstrual irregularities.
It helps to treat inflammatory pelvic disorders.
It is treated with many gynecological disorders.
It makes you relieve from the painful menstrual condition.
It shows a beneficial effect on your reproductive system.
It is helpful in headache, mood changes, tiredness, and pain in the back as well as the pelvic area.
It is good for some hormonal related problems like PCOD.
Masturin for polycystic ovarian syndrome
Polycystic ovarian syndrome (PCOS) is a hormonal disorder. A number of Unani physicians recommend masturin for PCOS. This Unani product helps the endometrium issues thereby beneficial for menstrual irregularities.
Masturin side effects
It should be taken in pregnancy only and only after the consultation of a physician.
Masturin shows little or no side effects on taking in moderate quantity.
It may change mental activity.
It may affect the metabolic condition.
Growth rate altercation may happen to it.
Masturin price
Its price is $9.68