List of Hamdard products
Hamdard natural herbal healthcare products, Unani medicine and wellness Unani as well as Ayurveda healing of Hamdard is well known, which is full of natural ingredients, vitamins, and supplements. The various herbal Unani & ayurvedic natural products of Hamdard are beneficial for health and is used by a large section of the population because of its least side effect.
Hamdard Rooh Afza
Hamdard Rooh Afza is one of the cooling, natural refreshing fruit drinks, which used throughout the year, especially in the scorching days of summer, and liked equally irrespective of age groups. Roohafza is the brainchild of Hakim Hafiz Abdul Majeed and a popular drink in many countries of the world due to its cooling blend of herbal ingredients.
Benefits
Cool herbal drink
Thirst quencher
Adjusts body water level
Safi- a natural blood purifier
Hamdard'ssafi cleanses blood and ensures good health to the entire body. It helps to keep one off with many skin related diseases, eliminates toxins, and gives a glowing face. Safi is a blend of many natural ingredients like Sana, Sheesham, Sandal, Gilo, Harar, Chiraita, Nilkanthi, Neem, Tulsi, Keekar, Chobchini, Brahmi, Kasmi, RevandChini, QandSafaid, ShoraDesi, etc.
Benefits
Cleanses blood
Removes pimple and acne
Skin glowing
Hamdard Roghan Badam Shirin
Roghan Badam Shirin is one of the beauty products of Hamdard and also used in many culinary uses. Roghan Badam has many important health benefits.
Benefits
Makes bone stronger
Develop immunity
Good for facial glowing
Enhances memory
Healthy hair
If you are suffering from a stuffy nose, chest congestion, and irritating throat problems, then joshina is one of the best bets to rely upon. It is a blend of 12 natural ayurvedic herbs. Some of the important ingredients of it are Tulsi, Mulethi, Amaltas, Unnab, Saplstan, etc.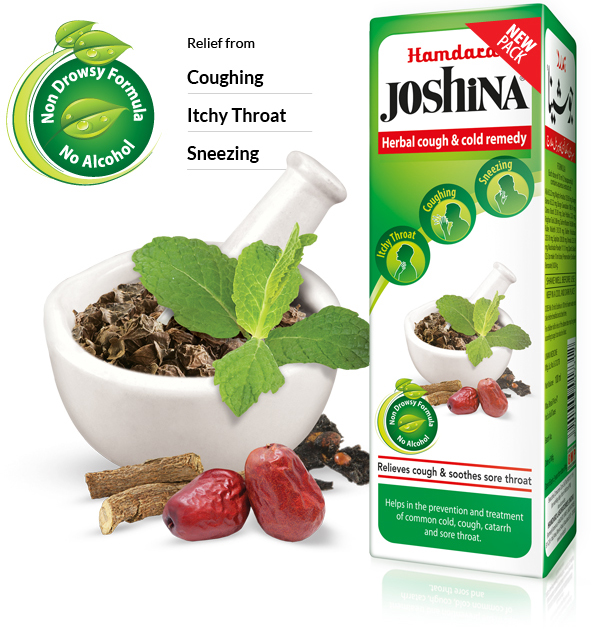 Image courtesy: Hamdrad. in
Benefits
Prevents cold and cough
Reduces throat irritation
Expectorant
Eases chest congestion
Clears respiratory tract
Cinkara
It is an important herbal tonic, having an adequate amount of vitamins, minerals, and herbal extract.
Hamdard Imyoton
Imyoton counters free radicals, reduces stress, and minimizes seasonal changes. It's a blend of some of the important herbs viz. amla mulethi, gilo, and neem.
Benefits
Boosts immune system
Body's diseases defender
Relives stress
Prevents infections
Enhances body resistance
Hamdard Diabeat
Hamdard herbal product diabeat helps to control blood sugar. The ayurvedic ingredients of diabeat are kalonji, methi, kasni, and neeb.
Benefits
Control blood sugar
Prevents frequent urination
Prevents frequent thirst
Combat skin infections
Beneficial in case of neuropathy, retinopathy, and nephropathy
Jigreen of Hamdard
It is the Hamdard product of multi-herbal formulations and good for various ailments of the liver. Its ingredients include Revand chini, Biranjasif, Arjuna, Sharphoka, Bhangra, and Kalmegh Naushadar.
Benefits
Anti-hepatotoxic
Protects liver from drugs and alcohol
Effective against hepatitis
Hamdard Sualin
It is a natural product of Bansa, Tulsi, and Mulethi, known for fighting against cough and common cold.
Benefits
Cough reliever
Good against sore throat
Beneficial in case of hoarse voice
Expectorant
Arq Gulab for beauty
Arq Gulab of Hamdard is purely made up of fresh rose flowers.
Benefits
Good for heart and brain
Effective in palpitation
Combat faintness
Headache
Thirst quencher
Hamdard Pachnol-a digestive tablet
If somebody is suffering from indigestion, Hamdard pachnol can give relief in the condition. The vital ingredients of pachnol are namak siyah, namak sambhar, naushadar, sat-e-leemun, zeera safaid, piplamul zanjabeel, suhaga, gond keekar, kishniz khushk and gandhak.
Benefits
Indigestion
Hyperacidity
Burning chest
Vomiting
Nausea
Lack of appetite
Stomach pain
Masturin of Hamdard for women health
Masturin is a natural product, beneficial for women's health that can be used by irrespective of age groups (1). Its ingredients are asgandha, ushba, ashok, habbul aas and maeen kalan.
Benefits
Women's health restorative
Hamdard Lipotab for heart health
Hamdard lipotab is good for cholesterol thereby beneficial for heart health. It comprises of vital nutrients viz. seer, chobzard, lactose, starch, chalk powder, and gum acacia
Benefits
Lowers bad cholesterol and triglycerides
Good for general well-being
Good for heart health
Naunihal gripe syrup for babies
It is generally used in the case of babies' stomach pain.
Benefits
Stomach ache
Improves digestion
Good for intestine
Given during teething
Hamdard Ghaza husn afza for wrinkles
If you are annoyed with acne, wrinkles, pimples, and dark spots, one should take Ghaza husn afza as suggested by Hamdard.
Benefits
Face rejuvenation
Wrinkles
Dark spots
Skin glowing
Dark circles
Acne
Hamdard Chyawanprash for cold and cough
Hamdard Chyawanprash is solely an ayurvedic product and known for many health benefits.
Benefits
Develops immunity
Cough & cold
Lungs
Removes general debility
Strengthens brain and nerves
Stomach disorders