What is Hamdard Sualin tablet?
Hamdard Sualin is a herbal and natural Unani medicine, quite effective remedy for cough, cold and bronchitis. This Unani formulation's importance increase manifolds, especially during winter season and seasonal changes. Sualin tablet has been prepared considering the conditions and problems related with respiratory system. It gives best relief from cough, sore throat and itchy throat. One bottle of Sualin contains 60 tablets and offered in nominal price.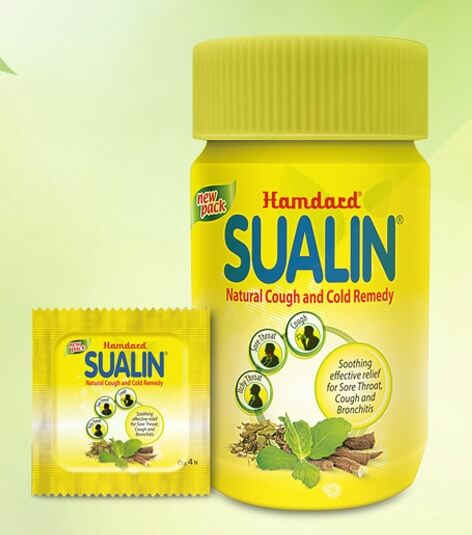 Photo Courtesy: Hamdard
Sualin tablet price
One bottle of Sualin contains 60 tablets. It is available more or less in all the medical stores. The price of 60 tablets is Rs. 60. It can also be procured through online viz 1 mg.com, amazon, flipkart, netmed, etc.
9 wonder benefits of Sualin tablet
Sualin tablet is a wonderful remedy for cough, cold & bronchitis treatment.
The patients who are suffering from frequent sputum, should take Sualin as it helps out to clear sputum from the lung.
It gives relieves from sore throat and throat irritation.
It is also beneficial in making hoarse voice soothing as it acts like as an expectorant.
It can also be taken in case of breathlessness.
Running nose
Migraines
Nausea
Respiratory infections
Sualin ingredients
The important ingredients of this herbal & natural formulation are: Bansa, Tulsi and Mulethi. The herbal composition of the tablet includes extract Morus nigra (50 mg), Dry Extract Liquorice (8.571 mg),dry extract Adhatoda vasica (5.714 mg), dry extract Ocimum basilicum (5.714 mg), Menthol(0.00171 mg), Oil Anisi (0.00054 µl), Oil Eucalyptus (0.00053 µl), Oil Pine(0.00043 µl), Oil Cubeb (0.00016 µl)and Oil Cinnamon (0.00011 µl).
Functions of Sualin ingredients
Extract of Morus nigra and Liquorice are good to treat cold, cough and sore throat.
Dry Extract Adhatoda vasica is beneficial for cough, cold, asthma and throat infection.
Dry Extract Ocimum basilicum is effective in case of headaches, cough and common colds.
Menthol is known for cooling effect and has impact upon throat soreness.
Oil Anisi is a good expectorant.
Oil Ecualyptus: beneficial in case of mucous membrane inflammation.
Oil Pine: It is useful in cough and nasal congestion.
Oil Cubeb: It is good to fight against cough and hoarseness of voice.
Oil cinnamon: Since, it has stimulating impact on respiratory system, thus beneficial in case of expectorant.
Directions of use
One tablet four times a day. However, in case of severe conditions, it is better to consult a physician.
Sualin tablet side effects
Though Sualin tablet is a herbal and natural product, yet it may show some side effects though not of serious consequences. If you have any of these conditions, while taking of the tablet, it is better to consult your doctor.
Allergy
Nausea
Vomiting
Drowsiness
Abdominal cramps
Sleep disorder
Precautions
Under the following condition, it is better to consult your doctor before starting the course of Sualin.
Cancer viz. breast, ovarian and uterine
Pregnancy
Alcohol consumption should be restricted.
Endometriosis
Uterine fibroids
It shouldn't be taken in case of hypersensitivity, seizures and renal calculi.
Interactions
Taking of Sualin tablet may interact with other medicines. It can interact with the following medicines.
Alcohol
Antidiabetic drugs
Birth control pills
Diclofenac
Amitriptyline
Tamoxifen
Hamdard Sualin review
I have gone through a total of 100 reviews of the uses of Sualin tablet. More than 95% of reviews have given a thumb up to the product. People have also given good remarks regarding the packaging of the tablet and its airtight condition. Few of them have given negative remarks too because of its tablets dampness and discoloration.