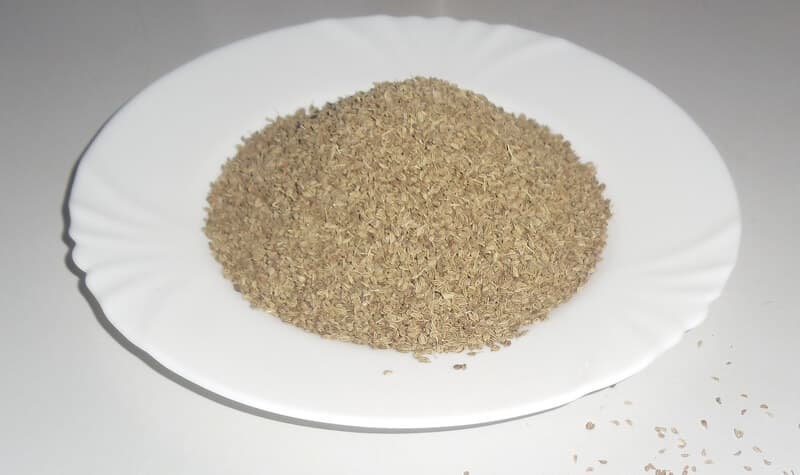 Ajwain overview
Ajwain is one of the best spices that is used widely across the world because of its many health and medicinal benefits.  Not only ajwain, in facts all of its parts are having pungent smell. It is known since the ancient times because of its potent benefits such as stomachache, killing of worms., earache, toothache and nasal blockage. It reduces the excessive sexual desire. 
10 surprising health benefits of Ajwain
1. Stomachache
It is used as an instant stomach pain reliver because of alcoholic ingredients.  The mix of it along with black salt and water is an effective remedy for stomach pain, gas and indigestion.  The patients of anorexia should take along with food.
Also Read:1.  Ajwain benefits for Gas and Acidity
                   2. Ajwain water recipes, uses & benefits
2. Cold 
For recurrent colds, it is suggested to take fried seeds of ajwain (2 grams) for 15-20 days. Inhaling of grind Ajwain seeds is beneficial in headache, migraine, and cold.  Chewing of its seeds with lukewarm water cures cough.
3. Asthma
Inhalation of Ajwain smoke makes breathing easy and  to larger extent acts as a bronchodilator. Asthma patients relieve if they take the mix of Ajwain and Jaggery, 1 tsp, twice a day. 
4. Diabetes Mellitus
Ajwain seeds (1 tsp) and Bael leaves juice (4 tsp) treat polyuria, generally seen with Diabetic patients. How to use? It can be taken 2 to 3 times a day. 
5. Alcohol Addiction 
The decoction of ajwain about (30 ml) can be given to Alcohol addiction patients at night to get rid off drinking gradually. However, the result can be visible if it is continued for loner period of time, about 60 days.  It also helps to ease stomach pain in case of such patients.
6. Cholera
Ajwain is known for its various medicinal uses including the prevention of threadworms and intestinal bacterial infection.  The ayurvedic physician suggests the use of it with cholera patients.
7. Kidney Stone
The formulations of Ajwain seeds, honey, and vinegar helps to remove kidney stones. The mix can be taken in the empty stomach for 15 days. 
8. Weight Loss
Ajwain is associated with multiple benefits including digestive system. In a newly research, it has been found that it fastens the bowel movement due to laxative ingredients, which not only makes the digestive system stronger, in fact, helps in  in weight loss too. It is also recommended to give to the obesity and overweight patients.
9. Gas and Flatulence
The seeds are the best herbal medicine to treat gas, flatulence, and indigestion. The seeds can be taken with black salt.
10. Acidity and Hyperacidity
It acts like as a panacea for  acidity and hyperacidity patients. Better to take the seeds along with lukewarm water, black salt after a meal. The procedure should be continued for one month. The grind of it is more preferable. 
15 wonder Ajwain seeds benefits (Carom Seeds)
Ajwain seeds enhances the efficiency of digestive organs as it facilitates gastro-intestinal secretions.
It is the wonder ayurvedic medicine to cure stomach pain. Not only abdominal pain, it also treats  flatulence, indigestion, and gas. One table spoon a day till one week is enough to solve the problem. 
Carom seeds contains a phyto-chemical substance called Thymol known for anti-bacterial and anti-fungal properties.
The presence of Thymol in ajwain is also associated with antiseptic properties and helpful in the treatment of asthma too.
The respiratory health issues bronchitis and nasal congestion can be cured with the using of it. 
It discourages the craving of alcohol. Those who are addicted, should take ajwain twice a day. 
The massage of ajwain oil helps to cure rheumatic arthritis. It is also beneficial who are having pains in legs, joints, knees and ankles. 
Gargling ajwain water is used since the ancient times to ease tooth pain. Ajwain fumes are also common among the rural population to prevent toothache.
Seeds are great for kidney stones removal. If the kidney stones are detected early, it can be easily removed with the use of ajwain seeds along with honey. Its use should be continued at least for 10 days. 
The grind of ajwain seeds along with lukewarm water helps to cure acidity and indigestion.
Thymol, the bio-chemical substance present in the highest number in used to treat colic, muscle spasms and cramps. It is also beneficial with the patients of edema.
The use of ajwain is also not behind in beauty and skin fair complexion. The paste of ajwain seeds and curd are used in treating pimples, acne, blemishes, and blackheads.
Flatulence can not only be cured yet it can completely eradicate the problems.
Ajwain seeds are laxatives in nature and should be taken by those who are experiencing obesity and overweight.
It should also be taken by those who are having the condition of piles.
Side effects of Ajwain
Eating of one tablespoon or half of it, hardly show any side effects. However, excess of may harm the body. Here, we are mentioning some of its side effects so that precaution can be taken to get maximum benefits of it. The eating of excess amount of it can cause stomach ulcer.
There are some people who are habituated of taking it after breakfast, lunch and dinner. such practices should be avoided. 
It should be avoided by those who are experiencing liver diseases and the condition of ulcerative colitis. 
Breastfeeding mother should take precaution. 
The pregnant mother should also take cautiously. Overeating must be avoided as they generally experiences gastritis issues.    
If a person is frequently experiencing vomiting, nausea and headache, take it after the consultation of a ayurvedic doctor.