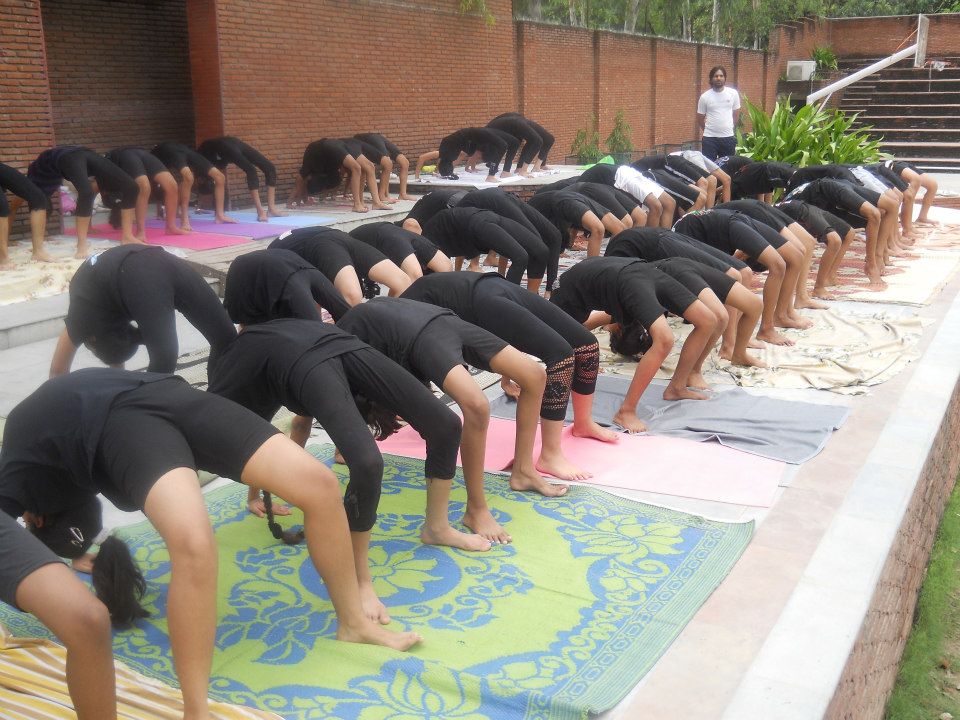 List of 10 simple Yoga to burn belly fat 
The meaning of Manduk is Frog. The pose looks like a frog in the final posture, hence its name. The frog pose helps to shed tummy fat. It is one of the best Yoga poses for abdominal organ massage and melts the extra abdominal fats.
Technique 
First of all, one should sit in Vajrasana (Thunderbolt Pose).
Make fists and placed them in the navel region with thumbs inside. Inhale deeply while sitting in the Vajrasana position.
Now, Exhale and bend forward, ensures touching your chest with your thighs.
Raise your head and try to see as above as possible.
In the sitting position, your hips should always remain touch your heels to extract the effective stretching of the pose upon your stomach.
Maintain the pose as long as you can with slow inhaling-exhaling.
Slowly come back to the Vajrasana position by inhaling and relax.
Benefits
It is good to reduce belly fat.
Massage the abdominal organs, good for indigestion, constipation, diabetes, gastritis, asthma, and flatulence.
It is also beneficial in the case of abdominal ailments.
It is quite beneficial for dislocated navels.
Precaution:  Persons who are having back pain shouldn't practice it.
2. Yogamudra (Symbol of Yoga) for weight loss
Yoga mudra is a combination of Paschitmottanasana and Padmasana. Yoga mudra is the best Yoga pose that helps to loosen up the knees and hip joints thus help to sit in Padmasana. In English, it is known as Symbol of Yoga or Psychic Union Pose.
Technique
Sit in Padmasana.
Hold your hands behind your back by clasping your wrist with your palm.
Inhale deeply. Bend forward with exhaling, try to make touch your head and nose to the ground.
Maintain the pose as long as you can with slow inhaling-exhaling.
Bring back to Padmasana with inhaling.
Benefits
The psychic union pose is helpful in losing your belly fat as it exerts maximum stretch on the stomach.
It massages the abdominal organs and good in treating indigestion, acidity, gas, constipation, and diabetes.
It diverts the blood flow to the pelvic region thus help to alleviate sexual disorders.
The pose provides a profound stretch to the spinal nerves.
Precaution
One who has knee and ankle problems, shouldn't practice it. Having back pain, avoid practicing it.
This is an excellent exercise for the shoulders, lower back, lower abdomen, and waist. This is quite prevalent in the past when Indian women like to grind their corn between two grinding wheels.
Technique
Sit on the floor by stretching your legs.
Interlock your fingers and rotate your hand by making as big a circle as possible.
White making rotating your hands, it should be ensured that your interlock finger must cross the toes.  
While making circles, lean forward with exhaling and lean backward with inhaling.
Make 10 rounds clockwise and anticlockwise each.
Benefits
It is good to melt fat from the lower abdomen. It is also good for your back, shoulder, and hands.
4. Dynamic  Spinal Twist
This is the yoga exercise, which gives a good twist to the entire spinal region. It also loosens up the entire vertebrae. This is extremely beneficial to lose weight naturally and cut down your tummy fat.
Technique 
Sit on the floor by stretching your legs.
Keep your legs as far apart as is comfortable.
Try to touch your right toes with your left palm and the other hand should be straight at the backside.
While looking at the hand at the back, try to twist your abdomen as far as possible.
With exhaling try to look back, with inhaling come to the center, and repeat the same to the other side.
Perform it 10 times from each side and do the exercise as fast as possible.
Benefits
It is good to remove fat from the abdomen.
Precaution
Persons having backache should perform in the presence of a yoga expert.
Uttan means raised upward and pada means leg. Performing Uttanpadasana is good for belly fat. If it is practiced systematically, it ensures the formation of abs in the body.
Technique
Lie down on the ground.
Your legs are stretched and straight without separation.
Inhale, raise your legs at a 30-degree angle and maintain the pose as long as you can with normal breathing.
Bring your legs down with exhale.
Perform it 5 to 10 rounds as per your comfort.
Benefits
It is good to cut down abdominal fat. It gives a good shape to the abdominal muscles and helps in the formation of abs if perform technically. It balances the navel center and relieving stomach pain, indigestion, and flatulence.
Precaution 
Avoid this asana, if you are experiencing back pain.
Ardha means half and Halasana means plow. This asana looks like an Indian plow.
Technique
Lie down in the supine position.
Keep your hands stretched at the shoulder level.
Raised both the legs at 90 degrees by inhaling and bring down with exhaling.
It is for one round.
One has to perform at least 10-15 rounds with a certain speed considering the yogic breathing pattern.
Benefits
It is good to overcome belly fat. This is beneficial to dyspepsia, constipation, piles, and stomach related disorders.
Precaution
One having cervical spondylitis, stiff spine, and hypertension should avoid it.
Naukasana effectively deals with abdominal fats and shed the unnecessary fat thus keep your stomach flat and smooth. Nauka means boat, hence it is called boat pose.
Technique
Lie down on the ground in the supine position.
Make your body straight and stretched from toes to head.
Raise both your head portion and legs at a 45-degree angle with inhaling so that the body becomes V shape.
Now, try to bring your palm ahead of your knees, maintain the position as long as one can hold.
Come to the surface slowly with exhaling.
Do it 3 to 5 times initially.
One can increase the round as per one's comfortability.
Benefits
It is a good yoga asana to reduce abdominal fat. It is helpful in the case of kidney, liver, and diabetes. It is good for gastric related problems.
Precaution
Avoid who has back pain. One shouldn't practice it if suffering from a hernia.
The meaning of chakra is wheel as in the final position; the asana takes the shape of a wheel.
Technique 
Lie on the back, knees bent and heels touching the buttocks and feet 12 inches apart.
Raise the arms; bend the elbows; place the palms on the floor above the shoulders beside the head.
Inhale and slowly raise the trunk.
Now, drop the head and straighten the arms and legs as much as possible.
Maintain the pose as long as you can.
Benefits
It is extremely beneficial to melt belly fat and have an enormous impact on having the stomach flat. If you want a flat tummy fast, it is suggested that one should practice yoga asana regularly.  It delays senescence. It makes the vertebral column flexible, slim waist, and helps in the expansion of the west. It is also good for knees, limbs, shoulders and good in minimizing rigidity of bones.
Precaution
This asana should be avoided by those who are having severe cardiac problems, HBP, hernia, abdominal muscle problems, and vertigo.
It is named Ardhamatsyendrasana after the great Yoga philosopher Matsyendranath. The yoga pose is highly useful for controlling tummy fat and giving the belly a flat shape.
Technique
Sit on the ground, stretch both your legs forward.
Now bend the right leg and put it on the other side of the left leg knee.
Place the left elbow on the right knee and clasp the right ankle with your left palm.
Now, give a maximum twist to your body towards the right shoulder so that the stomach experience maximum stretching through your knees and thighs.
The same thing will be followed by another leg.
Benefits
It is good for a flat stomach by reducing belly fat. It is also extremely beneficial in the case of liver, kidney, and back pain. It helps to relieve constipation, asthma, indigestion, obesity, and diabetes patient.
Precaution
Stiff spine yoga practitioners should avoid it. Pregnant ladies must skip this Yoga pose.
The meaning of pascima is posterior and uttana means to stretch out.
Technique
Sit on the floor. Stretch your legs by keeping them together.
Now, straight your back and neck.
Raise both the hands upward with inhaling.
Bring both the hands forward with exhaling so that you can clasp your ankles with your fingers.
Try to touch your knees with your nose.  
Maintain the pose as long as you can and become straight with inhaling.
Benefits
This is good in overcoming abdominal fat. The yoga asana is also beneficial for abdominal muscles, constipation, obesity, dyspepsia, seminal weakness, and skin problems. It is also effective in the case of sciatic patients.
Precaution
Avoid practicing it if you are experiencing backache and ulcers.
Besides, these Yoga poses and Exercises for belly fat, Some powerful Yoga is beneficial for tummy fat. Some of them are Bhujangasana, Agnisar, Kapalbhati, Bhastrika Pranayama, Tadasana, Ustrasana, Warrior pose, Parsavkonasana, Dhanurasana, and the module of Surya Namaskar.