Tulsi tea, or Holy basil tea, has a special place in Ayurveda, proven to be highly effective in preventing liver, skin, and kidney diseases. It is loaded with powerful oxidants, which control your blood pressure and cholesterol levels. Due to its hypoglycaemic properties, it helps in controlling diabetes. Because of its unknown, surprising health benefits, Tulsi is aptly called the 'Queen of Herbs'.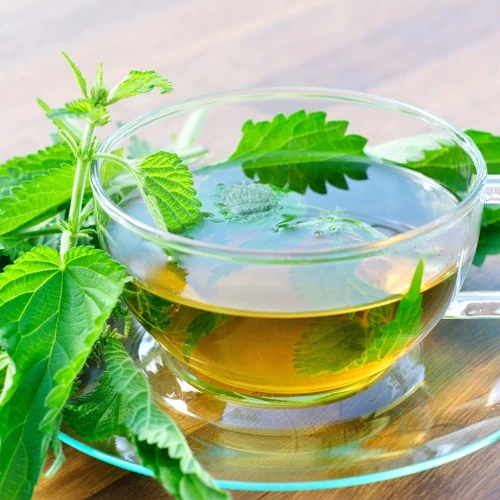 Nutritional facts of Tulsi tea
Tulsi leaves are a rich source of vitamins, minerals, protein and fibre. A 100g serving of Tulsi leaves are having the following nutrients: calories (22), total fats (0.6g), Saturated fats (0g), Cholesterol (og), Carbohydrates (2.7g), Dietary fibre (1.6g), Sugar (0.3g), Protein (3.2g), Sodium (4mg), Potassium (295mg), Iron (17%), Magnesium (16%), Calcium (17%), Vitamin C (30%) and Vitamin B6 (10%).
10 Wonder health benefits of Tulsi tea
Immunity booster: It is anti-bacterial, anti-viral and anti-fungal because of Vitamin C and zinc, a natural immunity booster. It reduces fever and acts as an antipyretic and analgesic too.
Cold and cough: Camphene and eugenol in Tulsi reduce cold, cough & other respiratory disorders.
Tulsi as skin cream: The consumption and application of Tulsi help to treat skin infections and acne. It also helps brighten skin, tighten skin pores, and prevent allergies.
Tulsi for hair: The application of Tulsi to hair prevents hair fall, prevents greying of hair, dandruff and dry scalp.
Tulsi for weight loss: Tulsi tea burns fat and is especially good for those who want to shed fats quickly. Using basil leaves helps the body absorb essential nutrients, smooth digestion, and boost stamina.
Tulsi for eyes: Tulsi prevents eye-related problems from dust and pollution. These leaves soothe the eyes and reduce eye strain, making them feel relaxed.
Prevents ageing: Tulsi contains essential antioxidants such as vitamins C and A, preventing premature ageing. Take 2 cups of Tulsi tea every day for good results.
Tulsi tea to quit smoking: Basil leaves purify blood. Chewing these leaves discourage the urge to smoke. Using basil leaves tea will also help to stop such addiction.
Reduces stress: Tulsi leaves lower the cortisol level, providing relief in combating stress.
Good for dental and oral health: The tea has antimicrobial properties. Sipping the tea helps fight against bacteria and germs in the dental region and protects from bad breath.
Surprising properties of Tulsi
Some of the potential properties and uses of chewing and eating Tulsi leaves are:
These are antipyretic (reduce fever)
Anti-inflammatory
Hypotensive (lowering blood pressure)
Analgesic (reliving pain)
Anti-asthmatic (reliving respiratory congestion)
Antiemetic (prevents vomiting)
Diaphoretic (induces sweating)
Anti-diabetic (lowering blood sugar)
Anti-stress (helps to reduce stress)
Great expectorant (expels mucous and sputum)
Hypolipidemic (lowers cholesterol)
Hepatoprotective (good for the liver)
Anti-cancerous (prevents cancer)
Unknown medicinal uses of Tulsi
Since ancient times, Basil has been regarded as a wonder plant, queen of herbs, holy basil, and known for its power-packed medicinal values. Some of its essential medicinal uses are given here.
Consumption of Tulsi is a panacea for curing fever, cold, cough and sore throat. Tulsi leaves, when boiled with cardamom, help bring down a fever.
It is used in treating insect bites.
Tulsi has antibacterial and antimicrobial properties, thus acting against bacteria and viruses.
The decoction of these leaves with ginger and honey helps cure asthma and bronchitis.
Tulsi is great in expelling expectorant and mucous from the bronchial tube.
Side effects of Tulsi tea
Long term of its uses may come with some adverse effects.
Basil leaves contain ursolic acid, which may have anti-fertility effects.
Those who desire to conceive should skip using Tulsi as it can affect their reproductive capacity.
Start using these leaves in smaller quantities to skip nausea-like feelings.
diabetic patients should take Tulsi after a physician's consultation as consuming these leaves lowers blood sugar levels.
Beneficial constituents of Tulsi
Eugenol: a volatile oil that gives Tulsi a sweet-floral scent.
Ursolic acid: strengthens the body's defences and promotes calmness and well-being.
Rosemarinic acid: Known for having antioxidant properties.
Caryophyllene and oleanolic acid: potent antioxidant effects
Surprising Facts about Tulsi (Basil)
It's the threshold between heaven and earth.
Most sought-after teas in the West are green, black and white.
Tulsi combats air pollution; accordingly, thousands of tulsi plants have been reared around the Taj Mahal to protect it from environmental pollution.
It is used to prepare holy water in Bulgaria, Romania, Macedonia and Serbia churches.