Career scope in Sowa Rigpa
Sowa Rigpa is commonly known as the Tibetan system of medicine. It is one of the oldest and well documented ancient systems of medicines in the world. The origin place of Sowa rigpa in Tibet; however, it is one of the significant practices of India. Sowa rigpa is also well accepted in Nepal, Bhutan, Mongolia, and Russia. Because Sowa rigpa's similarity with Ayurveda, sometimes, it is also known as a sister constituent of Ayurveda medicine.  In India, this system is widely practiced in Sikkim, Arunachal Pradesh, Darjeeling (West Bengal), Dharamsala, Lahaul and Spiti(Himachal Pradesh), and the Ladakh region of Jammu & Kashmir. Considering its demand, Sowa rigpa has adequate career scope in the field.
Sowa rigpa course details and eligibility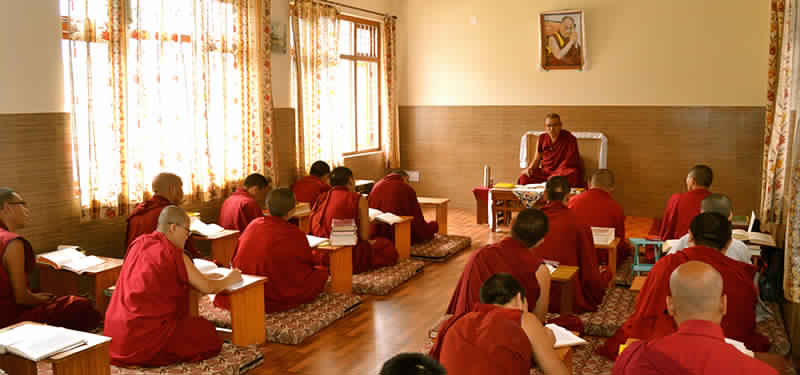 Image courtesy: dalailamatrustindia.org
Guru-shisya parampara is quite relevant to have mastery in the field of sowa rigpa. The sMenpa are trained under the guru-shisya tradition or under gyud-pa (lineage) system in families in which the knowledge is passed down from father to son through generations. To become a trained and knowledgeable sMenpa, skill and hard work are required. After that, the sMenpa has to appear in the examination before the senior's sMenpa of the region. After the successful passing of this examination, one gets the designation of Menpa. Some institutions are imparting modern education in the field of sowa rigpa. After completing 10+2, the students are selected on the entrance test cum merit basis. There is also a six years course known as sMenpa kachupa which is equivalent to Bachelor of Sowa Rigpa (Tibetan Medicine).
Job oriented career in sowa rigpa
Trained and skilled manpower is lacking in the field of sowa rigpa. The ancient system has in-depth potential in curing and treating diseases. The experts of the field are easily consumed for different sowa rigpa related jobs in the Himalayan region states and other parts of India. Besides India, they are also in demand in other countries like Nepal, Bhutan, Mongolia, and Russia.
Career options for sowa rigpa
As far as career options and employment opportunities in sowa rigpa are concerned, they have good prospects in training, education, government, and private sectors. Trained and skilled manpower is lacking in the field of sowa rigpa. There are varied career options are available in sowa rigpa. Some of them are listed below:
sMenpa
General practice
Academic
Research
Management & Administration
Hospital and Healthcare Administration
Health Supervisor
Sowa rigpa consultation
Master of Public Health
Amchis
Job options in sowa rigpa
After successful completion of the course and expertise, the sowa rigpa trained person can get in different sectors. There are the job profiles that attract suitable candidates. The job prospects for sowa rigpa experts are as follow:
sMenpa
General practitioner
Sowa rigpa consultant
Amchis
Research Assistant
Laboratory Attendant
Specialist
Doctor
Therapist
Director (sowa rigpa)
Assistant Director (sowa rigpa)
Research Officer
Sowa rigpa Research Officer
Sowa rigpa Physician
Publication Officer (sowa rigpa)
Pharmacist
Job Opportunity in sowa rigpa
Sowa rigpa experts have many job opportunities after completing their course and gaining mastery in the field both in the government sector as well as a private practitioner. They can be recruited as Sowa rigpa officer, Director,  Deputy Director, Assistant Director, Pharmacist, Research Officer, Assistant Research Officer, Consultant, Physicians, therapist, Lab technician, Lab attendant, etc. Teaching is one of the rewarding options for deserving candidates.
Salary for Sowa rigpa experts
The remuneration of sowa rigpa experts depends upon professional qualifications, experience, and proficiency. The salary in the field is also varying as per your expertise and professional reputation. At the entry-level, one may get Rs. 25, 000-Rs. 30, 000 per month as a consultant in the government sector. The government also recruited Sowa rigpa officer under the pay scale of Rs. 15, 600-39, 100 with grade pay of Rs, 5400.
Training institutions for sowa rigpa
Central Institute of Buddhist Studies, Leh, Jammu & Kashmir
Tibetan Medical and Astrological Institute, Dharamsala, Himachal Pradesh
Central University for Tibetan Studies, Saranath, Uttar Pradesh
Chagpori Medical Institute Darjeeling, West Bengal
National Research Institute for Sowa-Rigpa, Leh
Central Council for Tibetan Medicine, Dharmshala, Himachal Pradesh