Drumstick is full of nutritional value and is considered one of the important medicinal herbs in Ayurvedic medicines. Some of the fantastic benefits of this herb are that it is anti-oxidant, anti-diabetic, anti-cancerous and anti-asthmatic.
Nutritional facts about Drumstick
The drumstick plant contains various minerals and nutrients, such as pods, leaves, flowers, bark, roots, and seeds. The 100 grams of this medicinal plant contain Energy (37 kcal), Protein (2.1g), Fat (0.2g), Carbohydrate (8.53g), Fibre (3.2g), Calcium (30mg), Iron (0.36 mg), Magnesium (45mg), Phosphorous (50mg), Potassium (461mg), Sodium (42 mg), Zinc (0.45 mg), Copper (0.084mg), Manganese (0.259mg), Selenium (0.7 µg), Vitamin C (141mg), and other vitamins.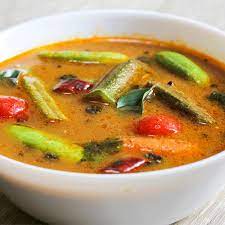 Drumstick recipe ingredients
Drumstick leaves: 250 grams, Moong dal: 1/3 Cup
Turmeric powder: 1/4 tsp, Mustard oil: 2 tsp
Mustard seeds: 1/2 tsp, Urad dal (split black gram): 1/2 tsp
Red chilli: 1-2, Cumin seeds: 1/2 tsp
Salt, pepper and lemon juice to taste
Method of drumstick recipe
Soak moong dal for at least 1-2 hours. Soaking dal helps in digestion but also reduces the time of cooking. However, if you are in a hurry, you can start cooking without washing it.
Easy steps to make drumstick recipe
Step 1
Drain water and add this to a saucepan. Add enough water (about a cup) along with turmeric. Cook in med-high flame, allow it to boil and cook until soft. It should not be overcooked to make a paste of it. Take a cooked moong dal and press it with your fingers; it should be soft enough to mash easily. At this stage, remove the cooked moong dal from the flame and drain the retained water if left over.
Step 2
Remove the drumstick leaves from the stem. Wash and give it a rough chop. Could you heat the oil in a pan and add mustard seeds?  After some time, add split urad dal and broken red chilli. Keep all these on the frying pan till the dal turns golden brown. Add cu, and when the aroma hits, add the chopped leaves and salt, and mix well. Pour one cup of water so that the leaves cook correctly.
Step 3
Add dal to the green curry, mix well and season with additional salt, if needed and lots of pepper powder. Now you can just switch off the flame and cool it. For taste, one can use fresh lemon juice. The same can be prepared with Chana dal, or grated coconut can be added to the green curry. It can be eaten with roti, rice, or plain boiled veg. Curry.
Benefits of drumstick recipes
The benefits of eating drumstick leaf are many, as it is packed with plenty of nutrients. It is used in the treatment of the following conditions and diseases.
Malnutrition
Anemia
Arthritis
Constipation
Deworming
Hypertension
Diabetes
Chronic inflammatory condition
Wonder properties of drumstick
The greenish medicinal herb is full of medicinal properties. Drumstick is anti-oxidant, anti-diabetic, anti-cancerous, anti-seizure, anti-asthmatic, anti-inflammatory, anti-parasitic, anti-bacterial, anti-fungal, anti-pyretic, anti-ulcer, anti-spasmodic and anti-allergic.
Unknown uses of drumstick
The leaf extract of the drumstick is used to cure diabetes.
It helps in lowering blood pressure
Use in removing kidney stones.
It is used as an anti-cancerous herb.
Helps to lower cholesterol.
It acts as a laxative and diuretic too.
Side effects
Swelling of underneath skin
Low blood pressure
Skin irritation
Asthma
Precautions
Excess of drumstick should be avoided.
Pregnant ladies better to skip it as it may act as an anti-infertility agent.
The herb seeds are associated with skin irritation and swelling.
Different names of drumstick
Horseradish tree or drumstick tree
Subhanjana (Sanskrit)
Haritashaaka or Akshiva (Ayurveda)
Sainjna or Saguna (Hindi)