Who is S Sridharan?
The Krishnamacharya Yoga Mandiram's (KYM) senior most Yoga teacher, S. Sridharan, is 72 years old. He serves as KYM's Senior Yoga Therapist, Advisor  Consultant, and Mentor. He spent 28 years working successfully as a merchant banker in a public-sector bank.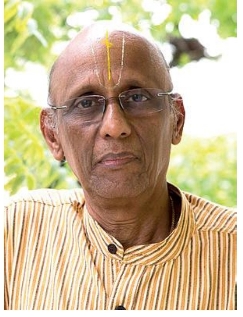 S Sridharan Guru
He enrolled as a student of T.K.V. Desikachar (Son and student of T Krishnamacharya) in the 1980s. For more than three decades, he directly studied the nuances of yoga in the "Gurukula" style. During this time, he was exposed to all the key works on yoga and the use of the discipline to treat ailments and advance one's spirituality. Under the guidance of his tutor, he also learned traditional Vedic Chanting. He had to split his time between pursuing a profession in banking and studying and instructing yoga under Desikachar's guidance during this time.
S Sridharan, senior teacher of KYM
He was instructed in 2002 to assume the role of Managing Trustee of KYM, which Desikachar had held since the organisation's founding for 25 years. He held the KYM's administrative and technical leadership responsibilities in this capacity. He served in this capacity for almost eight years. He also had an opportunity of getting KYM an ISO certification while he was Managing trustee. He gained notoriety in the yoga community as a result of this. He has represented KYM in multiple forums, conferences, seminars, etc.
Yoga teachings
He also was responsible for taking Consultations and Classes of Yoga for Therapy and classroom teaching all aspects of Yoga to Indian and International students in India for a brief period in his career. He has hosted special programmes that combine traditional Indian ceremonies with contemporary settings from a yoga perspective. He has travelled extensively and represented India in international yoga festivals in China and the UK.
Association with the Ministry of Ayush
He served as a representative of the Morarji Desai National Institute of Yoga (MDNIY), the highest authority on yoga under the Ministry of AYUSH, Government of India, at the Governing Body and Governing Council from 2010 to 2015. He was given a chance to share the KYM tradition's teachings. As one of the original members, he represents KYM in the Indian Yoga Association (IYA). He is an IYA Lifetime Member.  He serves on the board of the Technical Committee of the Yoga Certification Board, which was established by the Ministry of AYUSH and is working to certify yoga instructors. He serves as the chair of the subcommittee established to create a curriculum for yoga therapy certification. He participated in the WHO Technical Review Meeting as the Yoga Expert for the m-Yoga mobile application.
Books and awards
The Rotary Club of Madras East bestowed upon him the honorific title of "Droncharya.". He authorises a book that provides a Tamil biography of T. Krishnamacharya. Additionally, he enjoys Carnatic music.