Sri Sri Ravi Shankar's early life
Sri Sri Ravi Shankar is, also called Gurudev, a great spiritual and meditation teacher and renowned yoga guru known worldwide for his peace initiatives, humanitarian works, and foundation, 'The Art of Living.' He was born on 13th May 1956 in Papanasam, Tamil Nadu, and had a very keen interest in Bhagavad Gita since his early childhood. By 17, he had graduated both in Vedic literature and physics. He is often called Sri Sri, Guru Ji, and Gurudev. His name is Ravi Shankar has a fascinating story. Ravi means 'Sun' because of his birth on Sunday, and the name Shankar has been taken from Adi Shankara, a great philosopher of the eighth century who was also born on Sunday.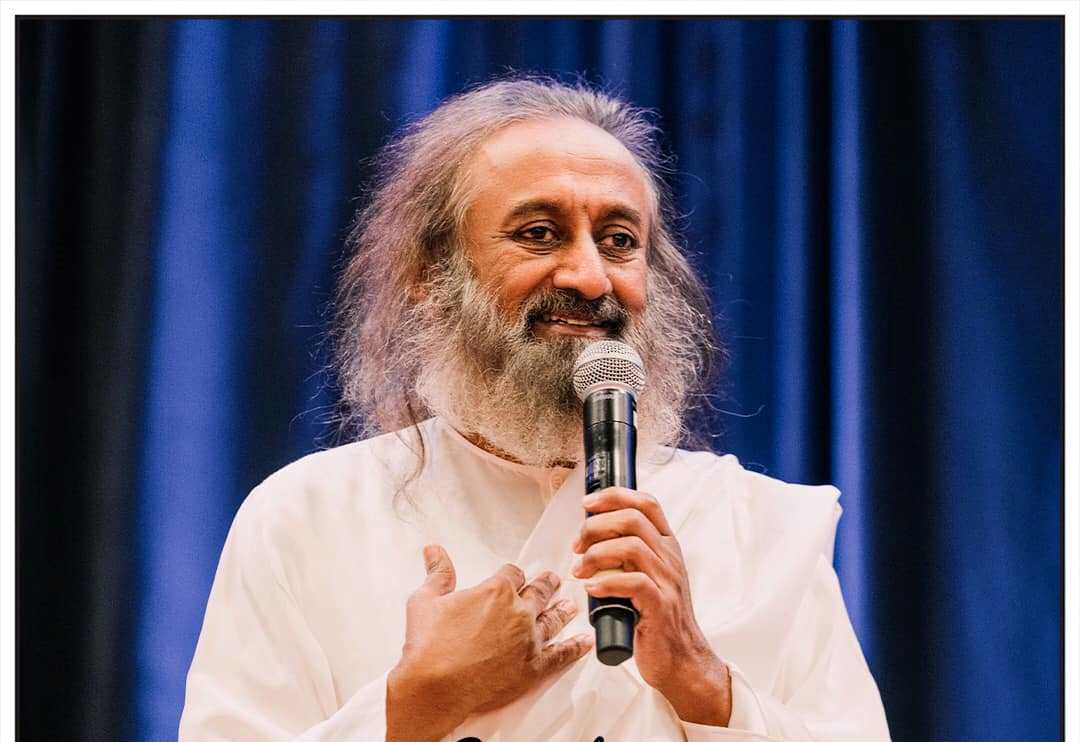 Peacemaking role
He is known as a humanitarian cum peace-loving leader and helps to unite millions of people across the world. As an ambassador of peace, he shares his vision of non-violence and is a key figure in peace-making. He has made conflict resolutions in Colombia, Pakistan, Venezuela, Iraq, the Ivory Coast, and many other countries. In India, he played important roles in resolving the various conflict-related issues of Kashmir, North East, and Bihar. He encourages interfaith harmony and multicultural education to achieve sustainable peace.
Founder of The Art of Living
The Art of Living was founded by Ravi Shankar, an international organization of non-profit nature that works towards well-being and reduces conflict in a stress-torn society. The organization offers educational, yoga, spiritual, and humanitarian programs in 180 countries. He also founded International Association for Human Values (IAHV) in 1997, that works for sustainable development and conflict resolution.
Humanitarian works
The humanitarian works of Gurudev are spread across the globe through dedicated volunteers. He and his team work for marginalized children, survivors of terror attacks, natural disaster victims, and many more. He is a part of a stress and violence-free worldwide movement.
Spiritual teacher
Ravi Shankar is a leading spiritual teacher who offers yoga and meditation classes worldwide for the betterment of society. His spiritual speeches are in demand, especially in the electronic media. Millions of people are getting benefited from his lecture.
Ravi Shankar's Sudarshan Kriya
Sri Sri Ravi Shankar developed a new technique known as Sudarshan Kriya in 1982 for social health transformation. He visualizes this breathing technique on the bank of river Bhadra, Karnataka. Sudarshan Kriya is a rhythmic breathing practice that has gained recognition worldwide as it giexcellentreat relief from stress and helps ensure inner peace.
Awards
Ravi Shankar received many recognitions in the form of awards.  Some of his important awards are Padma Vibhushan-India's second highest civilian award (2016), Peru's Highest Award, "Medalla de la Integración en el Grado de Gran Oficial," Colombia's highest civilian award, "Orden de la Democracia Simón Bolívar," Highest civilian award "National Order of Mérito de Comuneros," Paraguay, Honorary Citizenship and Goodwill Ambassador award, Houston, USA, and many more. In 2009, he was named by Forbes magazine as the fifth most powerful leader in India.
Controversy
Ravi Shankar once said that some Indian government schools breed Naxalism. All government schools and colleges should be privaprivatized government should not run any school. However, he later clarified that it was for sick government schools, especially in NaxalNaxal-affecteds. Many who have turned to Naxalism have come from these schools. In 2018, he faced criticism because of his comment that India would enter Syria if the Ram temple issue didn't solve soon.
Ravi Shankar's Twitter and instagram (social media)
Innstagram: @srisriravishankar
Twitter: @SriSri
Facebook: https://www.facebook.com/gurudev/
Ravi Shankar's best-selling books
Celebrating Silence: Excerpts from Five
Celebrating Love
Wisdom for the New Millennium
God Loves Fun
An Intimate Note to the Sincere Seeker
Secrets Of Relationships
Narada Bhakti Sutra – The Aphorisms of Love
Sattva the Ayurvedic Cook Book: A Fabulous Collection of Delicious Recipes From India and Around the World
Patanjali Yoga Sutras
Know Your Child
Bang on the Door: A Collection of Talks
The Yogasara Upanishad
Sex, Life, Spirituality
Shiva Sutras
Sri Sri Yoga: A Basic Practice Manual
Punarnava: New Again
Know Your Mind
Wonder
Source of Life
Through the Eyes of the Master
Management Mantras
Stumbling Into Infinity
Satsang: Collection of Bhajans
Quotes from Sri Sri
Power of Love
A Dios le encanta divertirse (Spanish)
Waves of Emotion
Being Love
The Art Of Being You
Buddha – The Manifestation of Silence
Sri Sri As I Know Him