Parmarth Niketan Ashram
Parmarth Niketan Ashram is located in Rishikesh, Uttarakhand, India. It is the largest yoga centre in Rishikesh, where people thronged worldwide because of its piousness and serenity. The spiritual aesthetic beauty of Parmarth Niketan Ashram increased manifolds because of the sacred river Ganga, its nearness to the Himalayas mountains and surrounding greeneries. The ashram stay has more than 1,000 rooms, modern facilities, and affordable tariff plans. Reservations for room booking can also be made in Hotels near the Ashram. H. H. Swami Chidananda Saraswatiji is the president of Parmarth Niketan Ashram, Rishikesh, India. Swami Chidananda Saraswatiji is the co-founder of Global Interim WASH Alliance, Founder of Ganga Action Parivar, Divine Shakti Foundation and India Heritage Research Foundation.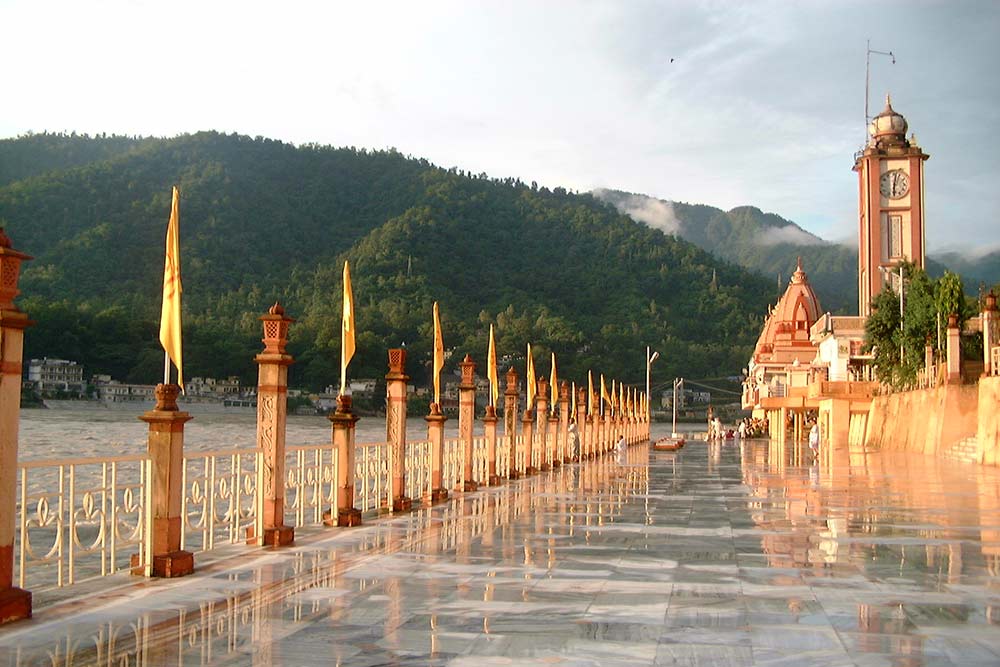 Photo Courtesy: Parmarth Niketan
Parmarth Niketan Ashram general reservation
If the visitor is enthusiastic about living in the ashram, they must apply and submit a form at least 15 days before arrival to make it hassle-free. If you need an urgent reservation, call 0135-2434301, 2434302. The reception is open from 8 a.m. to 8 p.m., and check-out is at noon.
Parmarth Niketan Ashram facilities
Parmarth Niketan Ashram, Rishikesh, has more than 1000 residential rooms with modern facilities yet with traditional aesthetic beauty. Maximum rooms have a Western-style bathroom with hot running water, good carpet and sunlight. The facilities and the milieu are known for cleanliness, purity, and sacredness.
Parmarth Niketan Ashram room costs
Parmarth Niketan room costs, reservation and other information in detail; one can mail to reservation@parmarth.com at least 15 days before arrival. It is also desirable to mention your duration of stay and programs like Yoga, Ayurveda, Naturopathy, etc. For travel agents, one can mail at tara@parmarth.com.   To reserve accommodation and Sanskars (mundane, yagnopaveet, vivah, asthi visharjan, etc.), contact Ramesh at +91-915-202-1999. For Retreats, contact: tara@parmarth.com.  For NRI or foreigners, it is required to sign Form C at the Ashram.
Parmarth Niketan Yoga courses
The Ashram is running many short-term yoga courses, especially considering the demand and requirements of tourists. For all the Yoga courses, the instructions are given in English.
Beginner's Founder Yoga (2 weeks duration)
Beginner's Intensive Yoga (One-week duration)
Intensive Yoga (2 weeks duration)
Kriya Yoga & Meditation (2 weeks duration)
Spiritual Retreat ( 5 days)
Weekend Spiritual Retreat (2 days)
Yoga Teacher Training Course (200 hours)
Eternal Sound Healing and Gong Workshop (4 days)
Chakrdance Awakening Retreat (4 days)
Creating Balance in Life through Yoga (6 days)
Embrace your spirit with Chakradance (2 weeks)
Parmarth Niketan hotel reviews
As far as hotel and staying review is concerned, there are mixed views and opinions. Some tourists recommended that the rooms in the ashram are good for visiting. The ashram is a beautiful place for Yoga, meditation, and spirituality and is world-famous for Ganga Aarti. Its aesthetic beauty increases manifolds because it is situated on the bank of the Ganga River. However, some sadhaks could have been more satisfied with the arrangements, staff, and cleanliness.
Parmarth Niketan daily activities
The world-famous Rishikesh Ashram is well-equipped for various activities throughout the day. It starts with morning prayers followed by yoga, meditation, Satsang, kirtan, world-famous Ganga aarti, nature cure, and ayurvedic treatments. You will also get a glance at spiritual programs by visiting guests, musicians, and spiritual leaders. There is no discrimination at any level here. Everybody is welcome in the spiritual hub.
Places to visit near Parmarth Niketan
The tourists can enjoy the Ashram as well as can also visit the nearby places for spirituality, health, and photography. The areas of attraction are given below:
The parmarth garden
Statue of Hanuman
Statue of Lord Shiva
Hills of Himalaya
Swarg Ashram
Geeta Bhavan
Shivanand Ashram
Yog Niketan
Ram Jhula
Lakshman Jhula
Triveni Ghar
Vashist Cave, etc.
Hotels near Parmarth Niketan
Some of the essential hotels near Parmarth Niketan are given below
Yog Niketan (0.4 from Parmarth Niketan)
Hotel Classic (1km from Parmarth Niketan)
Ganga Vatika Boutique (0.6 from Parmarth Niketan)
Aloha (1.6 from Parmarth Niketan)
Hill Top Swiss Cottage (1.1km from Parmarth Niketan)
and many more
How to reach Parmarth Niketan
To reach the Ashram easily and to make their arrival hassle-free, one can select any of the following spots to reach the destination. It is about 500 meters from Ram Jhula, 8 km from Triveni Ghat, 3 km from Lakshman Jhula, 30 km from Haridwar, 240 km from Delhi, 35 km from Dehradun, 20 km from Jolly Grant Airport Dehradun, and 70 km from Mussoorie.
Contact details of Parmarth Niketan
 Parmarth Niketan Ashram
PO: Swargashram
Rishikesh-249304
Uttarakhand, India
Ph: +91-135-244-0055, +91-135-244-0088
Website: parmarth.com