Yoga sessions for G20 leaders
The leaders and delegates of the G20 Summit started the day with Yoga, the practice of the age-old science of mind, body and spirit, conducted by Morarji Desai National Institute of Yoga (MDNIY). MDNIY has been making waves on the global stage, hosting rejuvenating Yoga sessions based on the standard Yoga Protocol (CYP) for G20 delegates at various high-profile meetings. These sessions, designed to promote unity, well-being, and inner peace, have garnered immense attention and appreciation from delegates and representatives from G20 nations. The consistency and vibrancy of MDNIY align with Prime Minister Shri Narendra Modi's vision of disseminating the power of Yoga across the world.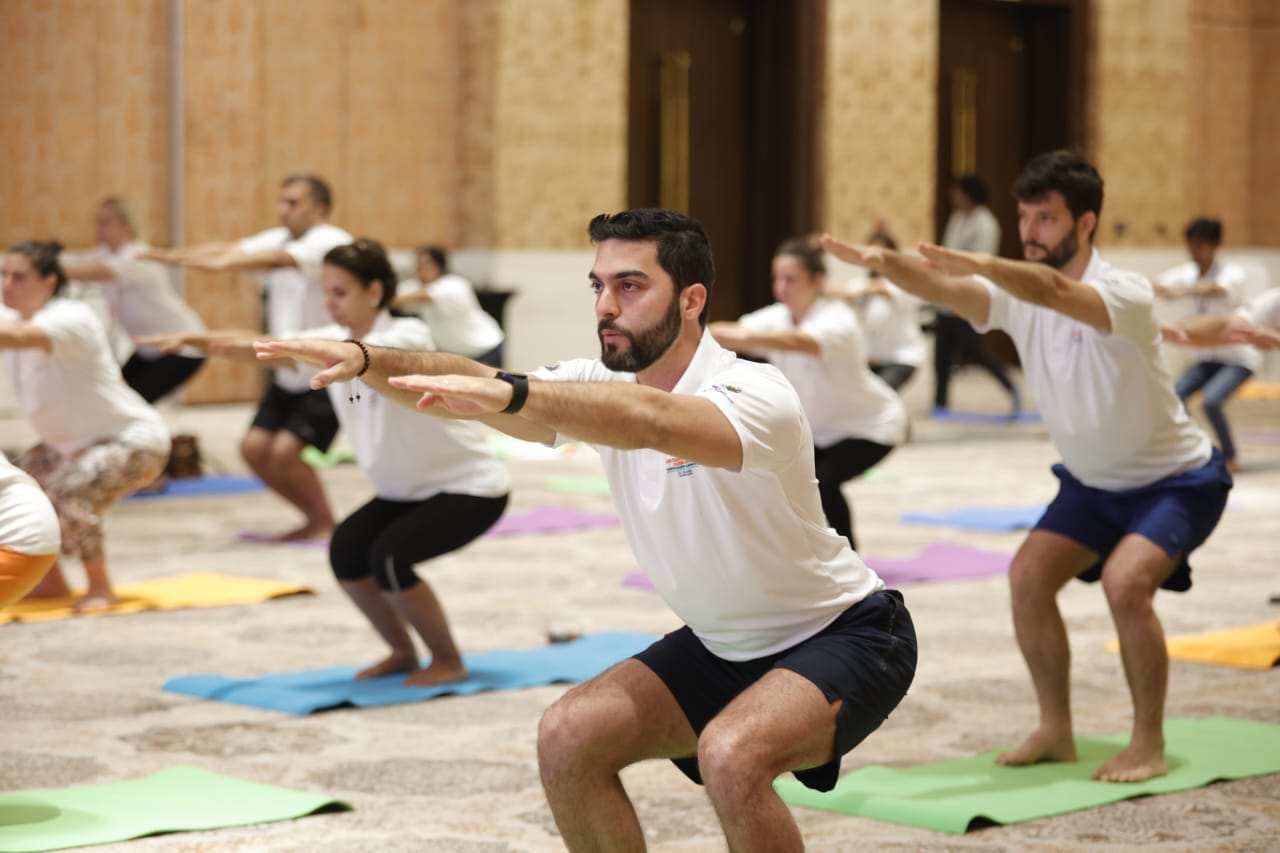 Before the commencement of deliberations, discussions, talks and negotiations, the leaders and delegates practiced the Common Yoga Protocol developed and designed by MDNIY at the places of their stay. To facilitate the practice, MDNIY's Yoga teachers conducted these Yoga sessions in pursuit of their consistent sessions being organised at different forums of G20 since the inception of India's Presidency 2023.
The experts cite that Yoga is not only the practice of Asanas, stretching and bending. It is a way of life and includes the right way of living up to the highest attainment of spiritual goals. It is where the CYP comes into the picture. Before the long day of intense discussions, G20 representatives practised CYP, thus observing uniformity in practice & practicality.
Nowadays, Yoga is one of the most popular forms of exercise globally, and it's become a global phenomenon over the past couple of decades. The involvement of various G20 delegates in these sessions proves that the international stage has felt the power of India's Yoga and has enabled the world to feel India's glorious age-old traditions, ethos, culture and historicity. MDNIY also strongly advocates making Yoga an integral part of day-to-day life as it's a time-tested mantra for a better, healthier life!
Yoga at Bharat Mandapam
As Delhi welcomes G20 leaders, MDNIY  conducted CYP sessions at JW Marriott, Hyatt, & Taj Palace, among others, for G20 delegates staying at these hotels.  Before embarking upon the long schedule of deliberations, discussions and talks, the guests experienced the rejuvenating and refreshing effects of Yoga. Bharat Mandapam, the venue of the G20 summit in Delhi, showcases a wall adorned with 32 essential Yoga asanas.
MDNIY's yoga sessions at various G20 summits
It is pertinent to say that in the realm of Yoga, India's G20 presidency has successfully captured the attention of G20 and other world nations. MDNIY has played a paramount role in unleashing the power of Yoga and brought forth impactful Yoga, Pranayama and Meditation sessions in the various G20 meeting venues, including Siliguri,  Gandhinagar, and Agra. In another inspiring moment, MDNIY also made waves by conducting a Yoga Break to the delegates at the WHO Traditional Medicine Global Summit, Gandhinagar.
Yoga and Vasudhaiva Kutumbakam
It is a well-accepted fact that G20 India's presidency has successfully showcased unprecedented vibrancy throughout the year and has aligned the concept of holistic healthcare to the ongoing dialogue of ensuring affordability, accessibility, availability and acceptability of healthcare to the whole world. The morning CYP sessions carried out by MDNIY's adept yoga teachers across various platforms of G20 working and engagement groups, align with the spirit of G20, instil the positive feeling of universality, well reflected in the theme of G20, i.e., "Vasudhaiva Kutumbakam – One Earth, One Family, One Future".
MDNIY's role at IDY
Recognising the universal appeal of Yoga, the United Nations proclaimed June 21 as the 'International Day of Yoga' on 11th December 2014, as proposed by Hon'ble Prime Minister Shri Narendra Modi. MDNIY has been pivotal in making this event a grand success year after year.
MDNIY's Mobile Apps and OPD
MDNIY is a premier Institute for planning, training, promoting and propagating all Yoga Education, Training, Therapy and Research aspects. MDNIY, as a WHO Collaborating Centre, prepared a mobile platform (mYoga) App on "Yoga Protocol for General Wellness that offers Yoga learning modules and practice sessions both in audio and video format, launched by the Hon'ble Prime Minister of India on 21st June 2021. The Institute is also running a Yoga Therapy OPD, which is NABH accredited. About 3-4 lakh people benefit annually through various Yoga programmes & activities.